Special Round Table Eschborn Oktober 2022 - 3D-Welten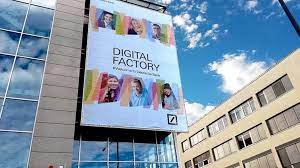 Und weiter geht's mit einem Spezial-Stammtisch Eschborn im Open Space der Digital Factory der Deutschen Bank.
Der Abend steht unter dem Thema 3D-Welten mit unserem Referenten Janek Panneitz.
In a team, we will together structure contents in a gaming way. The big advantage is the concentration of information and the reduction of complexity to a measure the makes it possible to recognize the context and the interactions.
Im Team werden wir gemeinsam spielerisch Inhalte strukturieren. Dass klingt erstmal wenig spektakulär aber durch die außergewöhnliche Dar- und Erstellungsmethode werden besondere Interaktionen zwischen den Inhalten aufgezeigt und besprechbar gemacht. Der große Vorteil liegt in der Zusammenfassung der Informationen und der Reduktion der Komplexität auf ein Maß, welches trotzdem Zusammenhänge und Wechselwirkungen erkennen lässt. Dieser zusätzliche Informationsgewinn bleibt nachhaltig dem Team erhalten und ist auch flexibel anpassbar, wenn sich Parameter des Projektes verändern.

Damit nach dem Workshop mehr bleibt als ein Fotoprotokoll.

Im Detail wird eine 3D-Projektwelt in mehreren Schritten erstellt:
Die Inhalte werden auf flexible Karten übertragen.
Inhalte die "zusammen gehören" werden zu Themeninseln sortiert.
Die Entfernung zwischen den Themeninseln macht inhaltliche Nähe deutlich.
Durch Höhenunterschiede werden Prioritäten verdeutlicht und können diskutiert werden.
Dieses Grundgerüst kann beliebig und je nach Zielsetzung erweitert werden indem durch verschiedenfarbige Token weitere Interessen dargestellt werden.

Erkundet gemeinsam mit uns die 3D-Projektwelten.
Referent: Janek Panneitz